Carolyn's new farm store, tasting room, & farm museum is now open. Call ahead for hours and availability. Hard Cider from our newly licensed Farmer Winery — now available for sale! 
Shelburne has long been known for having farms that were good for grazing animals and growing apples due to the climate, soils, and elevation that we have here. During the late 1800's Shelburne was the largest producer of dairy products in Franklin County and by the mid 1900's the town was one of the largest apple producing areas in Massachusetts. The area still grows many old heirloom varieties of apples and we are trying to increase their numbers in our orchard through the use of grafting on to our younger trees. The first generation of our family settled here in 1896 and there have been cattle and apples raised on the farm ever since. Our grand children who are the sixth generation are also raising some sheep and chickens as well as helping with the maple sugaring.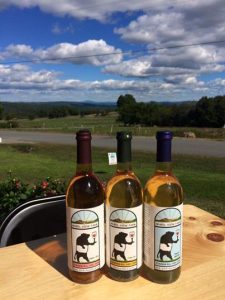 Hard Cider Sale
2 bottles —  $5.
6 bottles — $15.
12 bottle case — $30.
Wheel-View Farm now maintains an apple orchard using Integrated Pest Management which relies on natural predators and a minimum  amount of spraying with the least toxic chemicals available. Our apples ripen from mid-August thru late-October.
The raw cider is a blend of tree-ripened old and new apple varieties creating a flavor for everyone to enjoy and can be made into hard cider or vinegar. The diverse variety of apples used in our cider blends gives our hard cider a combination of aromatics, tannins, acidity and an adequate amount of natural sugars for good fermentation. We try to have raw cider available in the store through November and several varieties of dry, semi-dry, and sweet hard cider year round.
Pure Apple cider syrup and Maple Apple cider syrup (50% Maple — 50% Apple)
Apple Cider Syrup 12 oz. — $10.
Apple/Maple Cider Syrup 12 oz. — $10.
Apple/Maple/Cinnamon Cider Syrup 12 oz. — $10.